Tempura (天ぷら) are pieces of lightly battered, deep fried seafood and vegetables. Introduced to Japan during the 16th century by the Portuguese in Nagasaki, tempura has developed over the centuries into a popular Japanese dish both inside and outside of Japan. Tempura can be found in many types of restaurants across the country, where it is commonly served as a main dish, side dish or as a topping for tendon rice bowls, or udon and soba noodle dishes. The following are some of the most popular varieties of tempura pieces:
Ebi (えび, shrimp/prawn)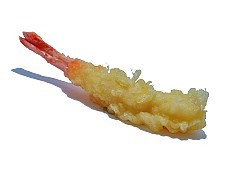 Ebi are a popular tempura ingredient that can be found on virtually all tempura dishes.
Sakana (魚, fish)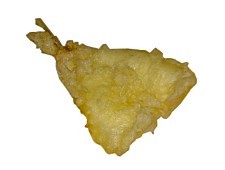 Small fillets or whole small fish are made into tempura pieces. Whitefish such as Japanese whiting, whitebait, goby, sweetfish are typically used.
Nasu (なす, eggplant)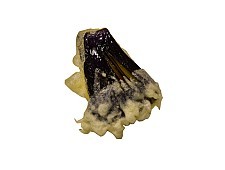 Nasu are Japanese eggplants or aubergines. Depending on the size of the nasu, they may either be sliced into rounds, cut in half, or cut into a fan shape before being battered and deep fried.
Kinoko (きのこ, mushrooms)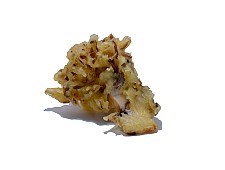 Mushrooms are popular ingredients for tempura. All different types of mushrooms are used, especially shiitake and maitake.
Kabocha (かぼちゃ, pumpkin)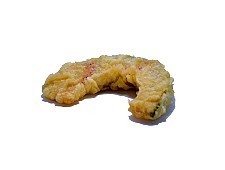 Kabocha are Japanese pumpkin with a thin, typically dark green skin and orange flesh. The skin is left on when cooking and is eaten together with the flesh. Thin, sweet and starchy wedges of kabochatempura are common items on tempura menus.
Satsumaimo (さつまいも, sweet potato)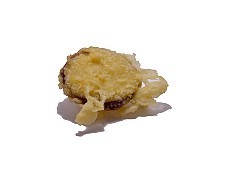 Satsumaimo are a type of Japanese sweet potato with a purple skin and yellow flesh. When used for tempura, it is sliced thinly and the skin is left on. Like kabocha, satsumaimo are sweet and starchy.
Shiso (しそ, perilla)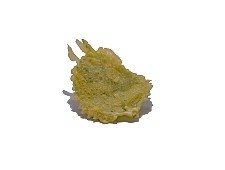 Shiso leaves have a mint-like flavor. They are usually served as a garnish with sashimi and are also a fairly common tempura ingredient.
Kakiage (かき揚げ)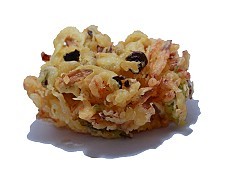 Kakiage is a type of tempura patty made out of a variety of juliennedvegetables and seafood mixed together in tempura batter and deep fried. Kakiage may be served as an appetizer or side dish, or as a topping over rice or noodles.
Where to find tempura
The best place to try tempura are restaurants specialized in the dish, known as tempura-ya. Tempura-ya have the reputation of being high-class restaurants, where customers often sit at the counter and watch as the chef prepares one tempura piece after the other. A meal at upmarket establishments typically costs 5000 yen or more. However, cheaper tempura-ya are also popular, with set meals and tendon rice bowls typically available for 800 to 3000 yen.
Casual restaurants such as izakaya, family restaurants, shokudo, and udon and soba restaurants also serve tempura as part of a set meal or as a side dish. Prices vary but typically range from 600 to 2000 yen. Tendon (tempura rice bowls) are also common with prices starting from around 800 yen.Supermarkets and department store basement food floors (depachika) also sell individual pieces of tempura for about 100 to 400 yen per piece.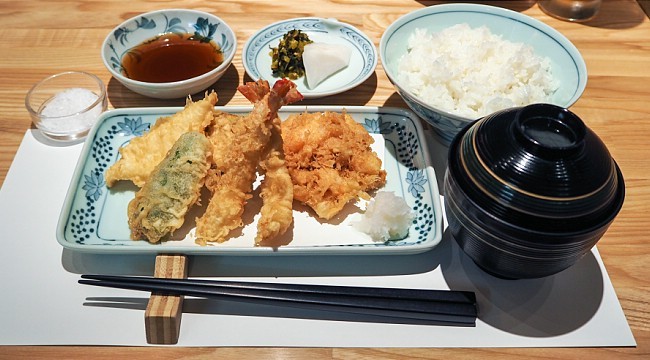 Tempura rice set
How to eat tempura
At upmarket tempura-ya, the chef will typically serve the tempura starting with lighter flavored items like shrimp and fish, before moving towards ber flavored items like root vegetables. Fish and shrimp tempura can be eaten in their entirety, however many people leave the heads and tails if present.
Tempura pieces are usually individually seasoned with salt or dipped into a dipping sauce before eaten. Usually only one of the two types of seasonings is available, depending on the establishment. Salt is sometimes matcha or wasabi flavored, while dipping sauces are often accompanied by a small bowl of grated daikon (giant white radish) to be added into the sauce.
Tendon rice bowls are served with a sweet and savory sauce already drizzled over the tempura and usually come with pickles and miso soup. There is no need to further season the tempura pieces. Tempura served as toppings in noodle soups, too, do not usually come with any additional seasonings.
[colwrap]
[col2]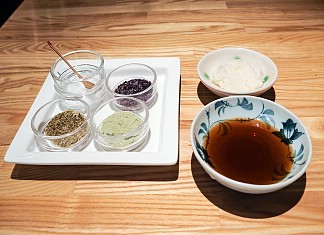 Flavored salt,dipping sauce and grated daikon[/col2]
[col2]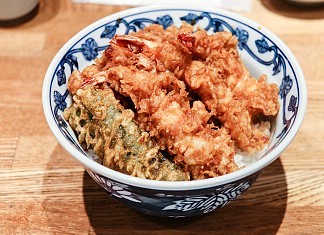 Tendon (tempura rice bowl)[/col2]
[/colwrap]